Are you a hotel operator noticing that your site visits are becoming stagnant or even dramatically going down? Have you ever wondered why it seems so challenging to get consumers directly book a room from your website–instead of doing it through online travel agents (OTA)? Are you thinking about whipping up a new website to 'refresh the look' of it–wishing that this effort will revive a certain level of engagement and interaction?
If this sounds familiar, hold that thought for a second. Instead of jumping to execute your plan and start searching for some hotel website design trends in 2019 (that might have brought you to this page!), reading this article will give you some sparks of inspiration on how you can improve your website, by understanding hotel customer's journey nowadays and their behaviours.

This is the key to making your hotel website works, and deliver results.

Let's look at your website
Our free video audit will take a look at your website and the UX-design of your website. We will send you a short video with an analysis from one of our talented team-members.
Hotel customer journey and behavioural design
First, just to make sure we're on the same page: web design is more than just aesthetics. Web design is all about designing an effective and efficient website that delivers results (or in the case of hospitality websites, bookings).

With this goal in mind, let's have a look at the two defining factors if you'd like to design your hotel website in 2019:

1. Designing a solid SEO&SEM strategy

Research by Sojern (teamed up with Google) in 2017 shows that according to Google, 60% of leisure travellers and 55% of business travellers use search engines to plan their trips. This only boils down to two options: you have a strong and solid SEO (Search Engine Optimization) & SEM (Search Engine Marketing) strategy to take advantage of this trend–or not.

2. Designing a mobile-first website 
Yes, in 2018, 52.4% of the global web traffic originated from mobile devices, which means 1 out of 2 (potential) customers might be looking at your mobile site. But this is not the only reason. Google's latest development of mobile-first indexing is taking place. From then on, your website's mobile version is the starting point for Google to include it in its index and the baseline for how Google determines your site rankings.


How do these two factors play a crucial part in your result-oriented web design?

Improving hotel website user experience & responsive design

Designing a hotel website with seamless booking experience and fast navigation
Apart from travel agents or corporate secretaries looking to get a better group/corporate rates, it has become a rarity for travellers to go check a hotel's website nowadays. Mostly, they'll go to hotel booking sites, compare prices and impose filters (budget, special deals, central location, etc.) and conveniently book a room from there.

If customers happen to land on your website's homepage, do you think they will experience a hassle-free, instant, and convenient booking process, better than the ones provided by hotel booking sites?

The truth is, customers will only visit your website if they are already interested in your premise but want to know more details either about the experience or the facilities. This means, the customers already know (more or less) the hotel's basic facilities and general room specifications.

However, a lot of hotel websites are still making the same mistakes of providing too much information about the state of their rooms, restaurants, and other facilities on the homepage, making this page practically useless and only adding distraction to the main goal: customer makes a booking from the website, right now.

If customers land on your website because they want to make an informed decision, how fast can they be convinced to act?

Designing a hotel website that works best on mobile
Now that you've factored in a seamless booking experience and fast navigation on your hotel website, design it with 'mobile' in mind first. Ask your web designer to submit a design that will work best on mobile first. Only when you're happy with that, expand or customize it to the desktop version.
"Why not doing it the usual way", you might ask. "Just design it for desktop first and then optimize it for mobile?" Well, the answer is simple. And we're talking about two important points here.
First, with Google's mobile-first indexing and the way people are doing more mobile-booking over the years, you want to design a mobile-first website. Criteo's Travel Flash Report in 2017 reveals how online travel agents' share on mobile bookings impressively increases to 61%, and only 11% for hotels. Online travel agents are raking all the fortunes with their user-friendly mobile apps and seamless browsing and booking process–while most hotels, frustratingly, seems to be oblivious about how they are lagging so far behind.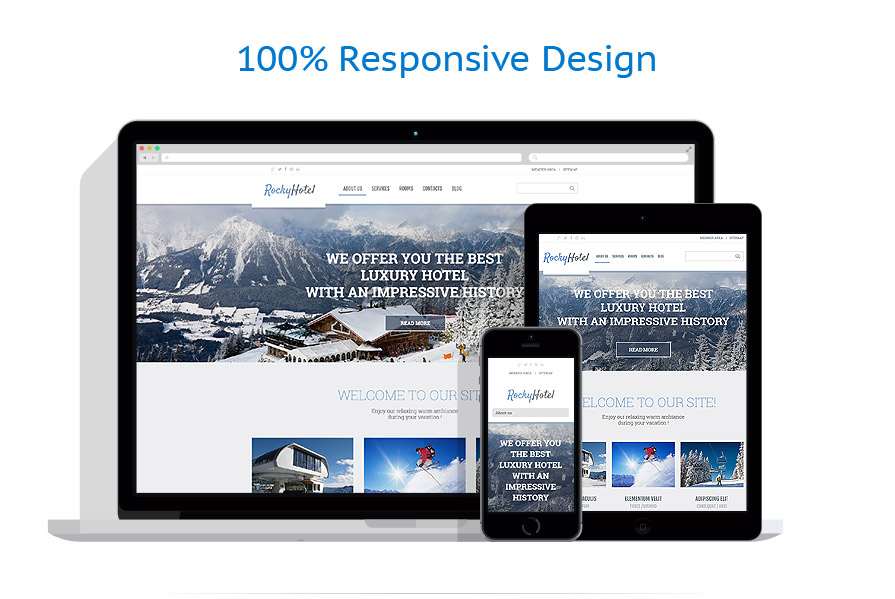 Second, when you are forced to design a website for mobile first, you will simplify everything. Whether it's text, image, video, form–when you design for mobile first, you will look at the structure with a different mindset. You will think in terms of priority, user-friendliness, velocity, and simplicity: something that is almost impossible to have when you design for desktop first (oh, so much space and pages and possibilities to display tons of beautiful pictures and narratives!).
Three key elements for on-trend hotel websites
So here are the 3 things you need to take into account when designing your hotel website in 2019:

First, a seamless browsing and booking experience matching those of hotel booking sites. The goal is for people to book right there and then.

This means excellent and speedy booking experience (no more than 2 clicks to book a room) and having this booking form as the 'highlight' of your homepage for fast navigation. How can you persuade people to click book immediately? What kind of information to appear close to the booking form that can increase people's tendency to click book instantly? Remember, when there are too many call-to-actions, you are distracting instead of directing.

Second, a solid content strategy that helps your SEO and SEM organically. Here is the goal: whenever people type questions or seek more information they cannot find on hotel booking sites, they'll be directed to a page containing that particular information on your hotel website.

This means having a solid monitoring system in place to find out keyword trends and popular searches related to your hotel. This can also include searches on the area/city where your hotel is located, travel-related experiences in that area/city, or an event/conference your hotel is hosting.
Think about these searches when you're thinking about content strategy. Think about what people are searching for that you can also benefit from, then provide a way for them to feed them with relevant information.

For instance, when people are searching for certain conferences or events in a city where your hotel is located (or even in your own hotel), will they be able to stumble into that information on your website along with an offer to book a room with a special event/conference package?

Third, a mobile-first hotel website design. Here is the goal: to increase the chance for your (potential) customers to book right then and there, on their mobile device.

This screams seamless, simple, and fast. When you design your hotel website with mobile-first in mind, on the upside, you will make your desktop website way more effective and efficient, too. Mobile first, then optimize it for the desktop — not the other way around.


Need help with your hotel website? Mowgli offers full service strategy, web development and marketing for hotels, resorts and coworking spaces. Get in touch now!